15 June 2021
Our Giggle Doctors are back at Young Epilepsy!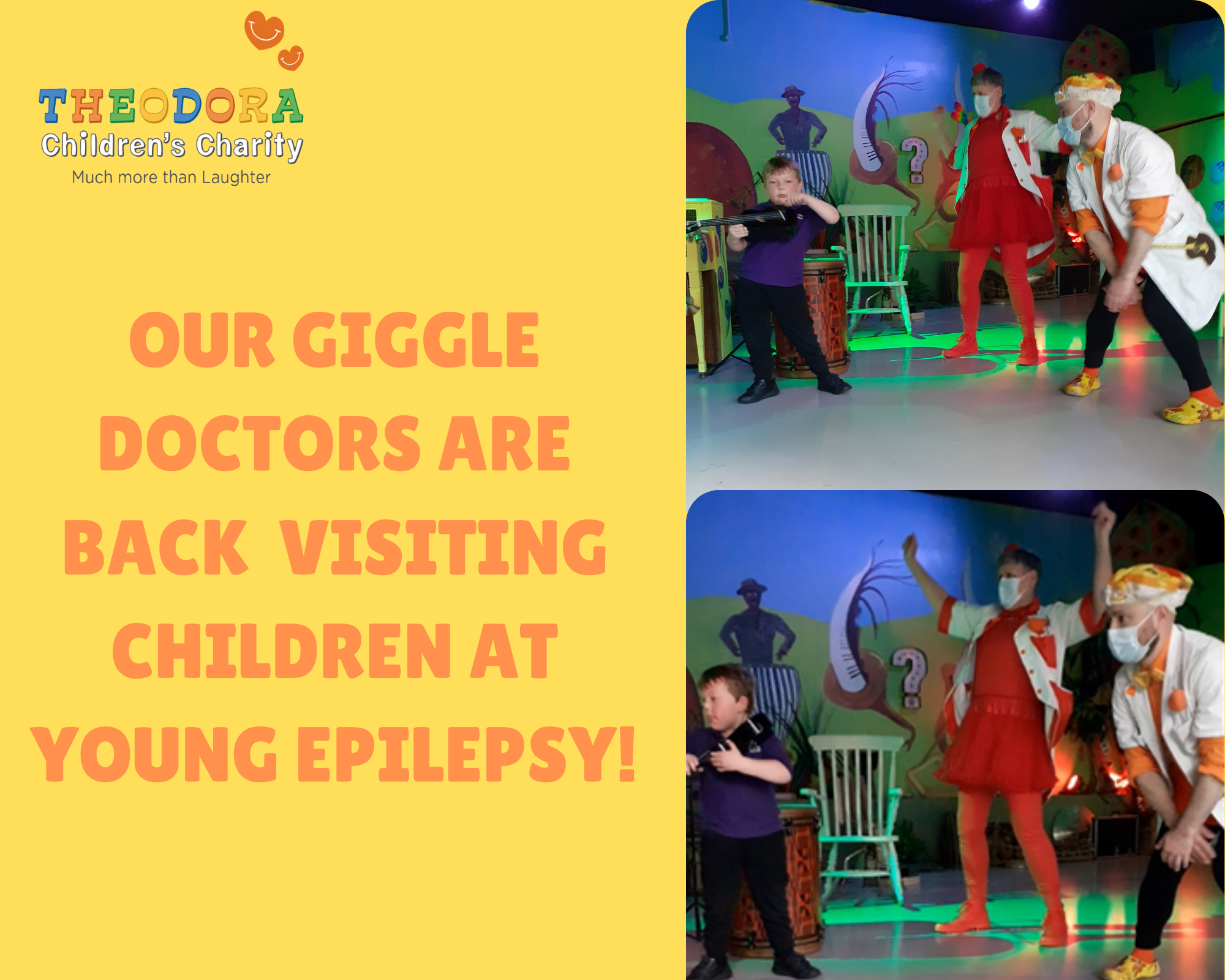 Friday 14th May marked a very exciting day for Theodora Children's Charity, as two of our Giggle Doctors made their first visit to children at Young Epilepsy since March 2020.
Dr Easy Peasy and Dr Bananas took over the Creative Arts Room to play and have fun with the primary children, using their range of Giggle Doctor instruments, props and games.
Giggle Doctors have been visiting Young Epilepsy for 7 years, providing magical interactions for the children. The Giggle Doctors' visit was enjoyed by children all over the school, even though we were only physically able to see a few children in person. Dr Easy Peasy visited children from some of the residential houses from the door, and the Giggle Doctors were able to lead some fun and music with the whole school via the online assembly too. Dr Dovetail, Dr Bananas and Dr Flowerpot had also created some special Giggle-a-Grams for the children in the residential houses that were enjoyed at lunch time, and many times afterwards.
Our Giggle Doctors are looking forward to our next visit to Young Epilepsy on 2nd July!
The Giggle Doctors were so wonderful last week. It was lovely having them back on site! The Giggle-a-Grams were really well received and the general school and residential ones were hilarious, so thank you for those
— Ginnie Batten-Evatt, Quality of Practice Leader, Young Epilepsy
We were delighted to have the Giggle Doctors in school for the first time since the pandemic struck. The Giggle Doctors were able to inject a massive dose of fun into the day, and dolled out large prescriptions of humour in their customary, zany style. I was extremely impressed with the versatility and flexibility of the Giggle Doctors to adapt in light of our technical difficulties on the day. Thank you for helping us to reach the students on our residential houses and giving them a well deserved treat.
If the peels of laughter echoing around  the drama studio from our students were anything to go by, it's obvious that the day was a massive success and we can't wait for the Giggle Doctors to do their rounds again.
— Colin Armour, Young Epilepsy, Drama Specialist