22 September 2020
Live Virtual Visits with a Giggle Doctor- Coming Soon for Play in Hospitals Week!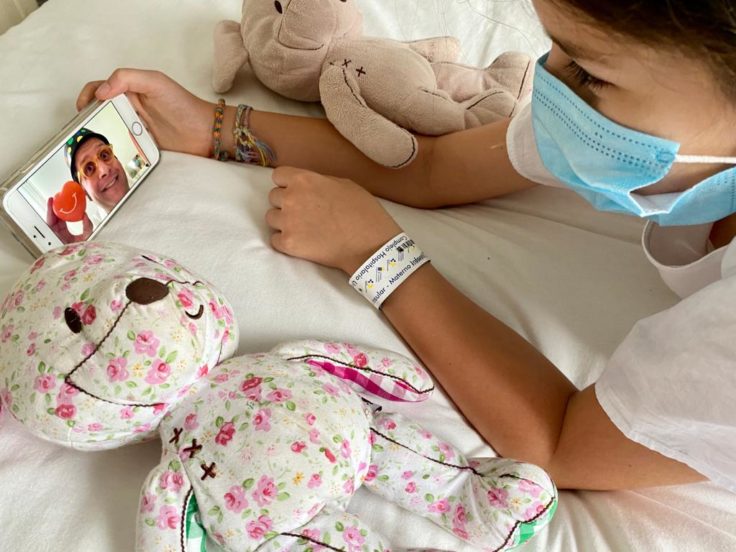 As our Giggle Doctors are currently unable to visit children in hospital due to Covid-19 restrictions, we have adapted our Giggle Doctor Programme to be available on your screen. With our Giggle Doctor Live Calls, we can provide the same service for your child, but through a screen instead of in person. Starting in October, our Giggle Doctors will be on call  throughout the week online, and parents will be able to visit our website and book a time slot to connect with the Giggle Doctor using WhatsApp Video Call on their phone or tablet.
"My 2 1/2 year old daughter absoulutely loved her live video visit from Dr Flowerpot.  We had lots of laughing and play together and it was really easy to do the online booking and visit." – A parent
"Everyone at Theodora Giggle Doctors charity is glad that with our Live Visit Programme we will be able to visit children who we know have been missing us.  We have been missing them too and are working hard to be able to visit in person. Until then hope we that lots of you will get in touch and book a live visit.  Many thanks for all your support." – Judi Byrne, Chief Executive
Our Giggle Doctors can also deliver Giggle-a-Grams, which are personalised Giggle Doctor videos that you can request for your child.
If you would like to book a Live Call or a Giggle-a-Gram for your child please click here.
While our videos are free for children we need your help to continue to spread joy and laughter to more children at a time when they can feel scared and isolated. Your support will help continue to spread joy and laughter to children in hospital and will have a lasting impact for many children.
If you would like to donate to our Live Call Programme please click here to make a donation. Thank you for your support!