13 March 2018
International Day of Happiness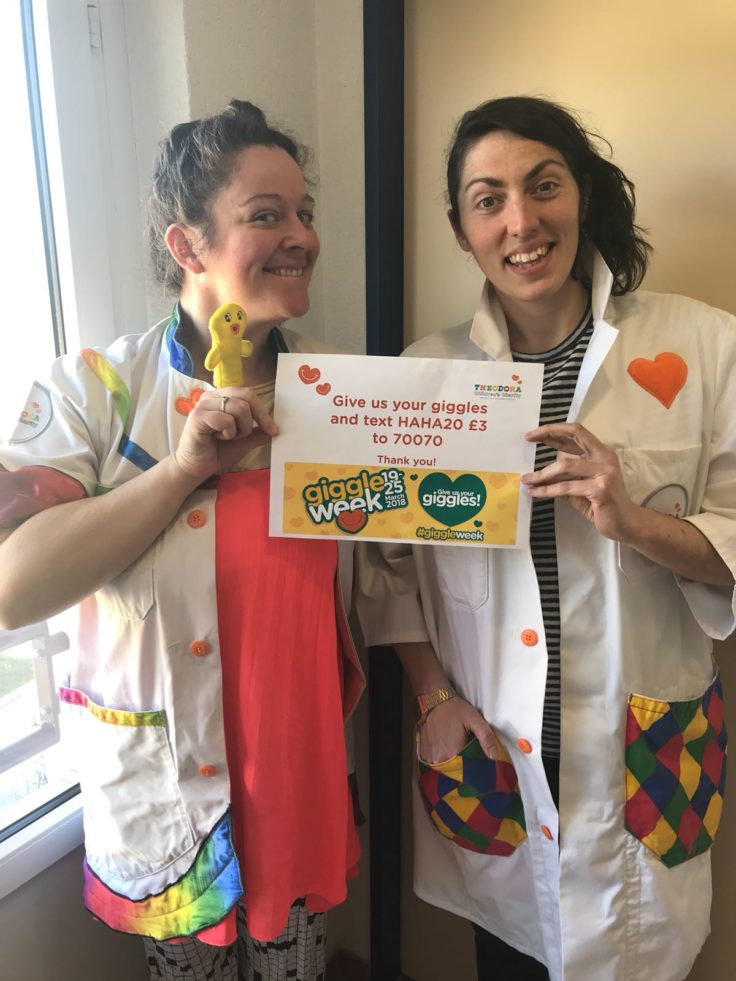 We're sure you already know all about Giggle Week.
Running from 19 – 25 March, our inaugural Giggle Week is a national campaign to bring even more giggles to sick and disabled children in hospital. Last year, we were able to visit 33,000 poorly children. We want to raise enough money to bring giggles to 43,500 young patients by the end of 2019.
Giggle Week is going to be packed full of fun events and exciting fundraising opportunities like our #GiveAGiggle social media campaign. To help us raise awareness of our work, we want you to share a video of yourself laughing, snickering, or chortling on social media. You can share your videos with us using the hashtags #GiggleWeek and #GiveAGiggle.

It's no accident that Giggle Week will coincide with a very special world event that lies close to our own hearts. On Tuesday 20 March, people all around the world will be celebrating the International Day of Happiness.
The International Day of Happiness was founded by the United Nations in 2013 as a way of recognising the importance of happiness in the lives of people around the world.
It may sound silly, but in our busy lives we can sometimes forget to make time for what makes us happy. The International Day of Happiness reminds us to make an effort to bring happiness into our lives. It also promotes the importance of incorporating happiness into our culture and organisations.
Since the establishment of the International Day of Happiness, each of the 193 UN member states has made a commitment to putting wellbeing at the heart of government policy. According to the Organisation for Economic Co-operation and Development, a "profound shift in attitudes is underway all over the world. People are now recognising that 'progress' should be about increasing human happiness and wellbeing, not just growing the economy."
To continue this mission of prioritising wellbeing, the Sustainable Development Solutions Network (a UN organisation) publishes the World Happiness Report on 20 March every year. The report provides a detailed look at the state of global happiness, ranking 155 countries by how happy they are.
According to last year's report, Norway was the happiest country in the world. Switzerland – where Theodora Children's Charity was founded – is the fifth-happiest country, and the UK the nineteenth-happiest.
With all this focus on happiness and wellbeing, we knew that the week of the International Day of Happiness was the perfect time to host Giggle Week.
Our Giggle Doctors visit poorly children and their families during what can be difficult and stressful times. Spreading just a little bit of laughter among children in hospital can help alleviate feelings of boredom and anxiety. Research has also shown that laughter can help us tolerate pain and provide a boost to the immune system.
In fact, laughing regularly – even when we don't particularly feel like it – can help us live happier lives, Action For Happiness identifies ten key factors contributing to lasting happiness – including positive emotions and laughter.
As an organisation that promotes feeling good, we're looking forward to reading this year's World Happiness Report. Let's see if your giggles can help the UK can climb a few places in 2018!
If you're looking for a way to celebrate this International Day of Happiness, perhaps you'd like to take part in our #GiggleWeek campaign and #GiveaGiggle?! As well as sharing your giggle on social media, you could host a bake sale, dress-down-day or even a sponsored something! However you get involved, remember to text HAHA20 to 70070 to donate £3 to Theodora.
Time to get giggling!
{"preview_thumbnail":"/sites/theodora_uk/files/styles/video_embed_wysiwyg_preview/public/video_thumbnails/N-BYd_UmJpc.jpg?itok=IaUQtmJC","video_url":"https://youtu.be/N-BYd_UmJpc","settings":{"responsive":0,"width":"790″,"height":"385″,"autoplay":0},"settings_summary":["Embedded Video (790×385)."]}